Social Prescribing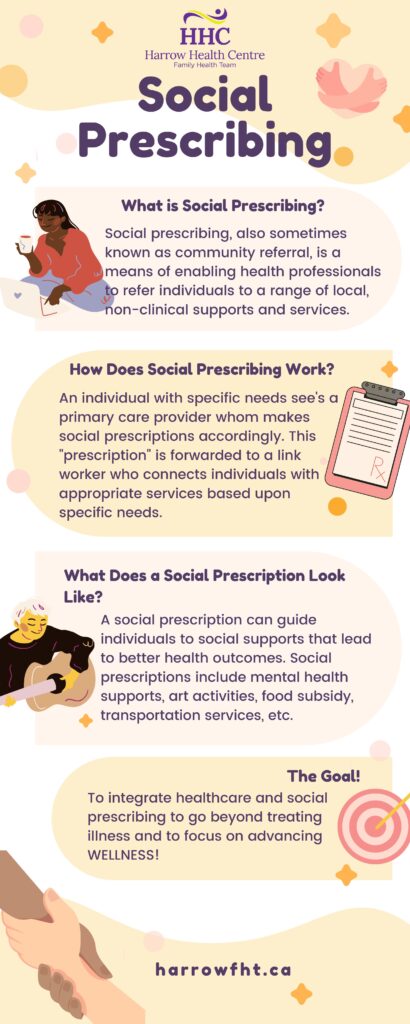 Our Partners
Social Prescribing Services include but are not limited to:
Assistive devices ( aids/ramps/CPAP)
Basic personal (health, dental and in-home supports)
Household needs (cleaning, repairs/maintenance, bed bugs)
Community clinics (physio/OT/rehab)
Community supports (pain mgmt/smoking/peer groups)
Falls prevention (classes/education)
Financial assistance (bills/budgeting/income)
Food insecurity
Housing insecurity:
Legal help
Mental health/addiction (free clinics, private therapists/detox)
Social isolation
Transportation
You can self-refer with the contact information below
How to use this page
Click on the interactive logos below to be taken to our partners' websites. To see more information about the organization, click on the pull-down menu near the organization's logo!
211 Ontario
To call 211 Ontario, dial the following numbers:
To visit 211's website, click on the logo next to this message or visit www.211southwest.ca
Social Prescribing for Seniors
To call Life After Fifty, dial 519-254-1108.
Services Offered
Virtual and Remote Programming available
Physical activities
Brain Health and Skill Development
Social Activities
Nutrition
Mindfulness Practices
Volunteer Opportunities


Windsor Essex Compassion Care Community
To call Windsor Essex Compassion Care Community, dial 519-728-1435 ext.208.
Services Offered
Fitness
Crafting
Games
Food Pantry
Congregate Dining offered in Essex
Meals on Wheels
WECCC – Care Conversations
Adult Day Program
Home Supports
One-on-one Support
Neighbours Teams
Visiting and Social Supports
Volunteer opportunities available
Foot Care clinic – Subsidy available (for Harrow Health Centre patients and Harrow Residents)
Transportation – Subsidy available (to and from appointments at the Harrow Health Centre)